< back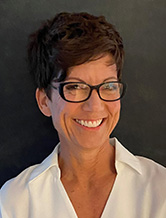 < back
Wendy Fresques
Director
Sr Director, Customer and Growth Channel Marketing
In her current role, Wendy leads the marketing efforts for UNFI's Fresh and Produce divisions, focusing on customer communications, in-store tools and resources. Wendy comes from our Tony's Fine Foods acquisition on the West Coast where she led Tony's marketing and special events. She brings with her a passion for service and great customer experiences. During her 10 years at UNFI, she chaired the Tony's CommUNITY fundraising team, she participated in the UNFI University leadership development program and served 3-years as board member of the Perishable Foods Council, including one year as Vice President.
Prior to Tony's Fine Foods and UNFI, Wendy spent 18+ years in game operations/events in professional sports entertainment – MLS, NFL, NBA. These experiences gave her a true appreciation for grass roots marketing, global brand engagement and the importance of participating in the fabric of a community.
Wendy graduated with her Bachelor of Arts from California State University, Sacramento. Celebrating 26 years of marriage, she and her husband Bobby continue to live in Sacramento with their daughters Ashlynn (23), Presley (21), and Havannah (16). They believe that a family that prays and plays together, is a family that stays together.
< back