< back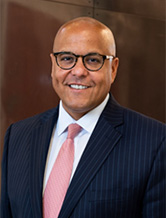 < back
Victor Velazquez
Director
Senior Vice President of Digital Customer Supplier Experience, UNFI
Victor Velazquez serves as Senior Vice President for Digital Experience responsible for Customer, Supplier & Associate experience as well as UNFI's eCommerce business.
As the leader driving digital experience outcomes on behalf of these two key stakeholder groups, Victor develops and drives the vision, strategic guiding principles, and lead change efforts across the enterprise by collaborating with customer, IT, sales, supplier and service platform leaders throughout UNFI. These efforts seek to build strategic synergies across the organization to drive a forward thinking "Digital First" mind-set across the entire organization.
Victor has more than two decades of experience driving organization-wide results in highly matrixed and global enterprises within a variety of industries. He led operational divisions within 1800Flowers.com as they evolved their consumer and supplier experiences, and he was a founding member of the leadership team at FreshDirect, a pioneer in the online grocery delivery segment. He served as Senior Vice President for Strategy, People & Enterprise Management at the American Institute of CPA's (AICPA) where he led the formation of numerous internal cross functional initiatives, joint ventures and key acquisitions that drove their digital capabilities.
Victor holds certifications in enterprise change management and various other disciplines, an MBA from Wake Forest University, a Masters in Accountancy from New England College and has been admitted into Wharton's prestigious C-level leadership Advanced Management Program.
< back