< back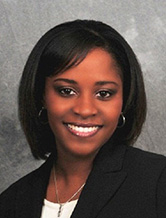 < back
Nadine Parris
Director
Marketing Director, UNFI Professional Services
Nadine has been with UNFI for 6 years supporting the UNFI Professional Services business, a valuable suite of retail business solutions for independent retailers and strategic growth pillar for UNFI. In her role, Nadine devises creative marketing, lead generation and sales support strategies that enable business growth.
Believing strongly in community, culture, and continuous improvement, Nadine directly endorses UNFI's diversity and inclusion goals serving as Co-Chair of UNFI BUILT (Black UNFI Leaders of Today) Belonging & Innovation group focused on supporting and enhancing the black associated experience. She's an alumnus of the UNFI Elevate 2022 leadership development program and was selected as a Top Women in Grocery 2018.
Nadine also prioritizes service to her local community having made gifts of time and leadership to non-profit organizations part of her DNA. One of her proudest contributions was serving as a founding member of Greater Twin Cities United Way WINGs (Women Investing in the Next Generation), a fundraising and grant awarding organization that prioritized up & coming non-profit organizations in service to women, children seeking financial stability.
Nadine earned a Bachelor of Arts from Dartmouth College. And has recently traded-in her free time playing competitive volleyball for the fun and memorable challenges of raising two young toddlers with her husband Kevin in Minneapolis, MN.
< back